Here are a selection of talks and presentations I've recently given.
The Evolution of DevOps - Re:Develop 2018
From the modern manufacturing revolution, to today's tech world of continuous delivery, automation and cloud technology, I take a look at where we came from, how we got here and what it means to "do" DevOps.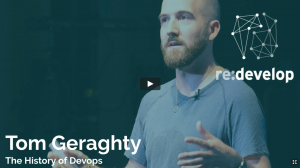 Compliance in the cloud - Continuous Lifecycle London 2017
This talk covers how to be compliant in the cloud, be secure, gain a competitive advantage, and avoid going to jail.
While there's an almost infinite list of assurance schemes, regulations and frameworks that we need to comply with, such as PCI, HIPAA and GDPR, the controls are all largely the same. Maintain data and system security, know your environment, only allow people to do what they need to do, and be able to prove it. These are some of the technologies and strategies you might employ to introduce and maintain compliance in AWS.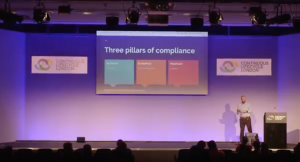 The "Three Ways" - My first DevOps talk.
Slide deck
The Origins of the the Blockchain - East Midlands Blockchain meetup 2016
Slide deck
I've also had the opportunity to speak on a few podcasts too:
WB40 podcast - episode 94: Speaking about DevOps and the book "The Phoenix Project"
Bitpicking: Live from Re:develop.io where I spoke about the evolution of DevOps.
WB40 podcast - episode 68, speaking about DevOps cultures and practices.